April 2022: Dr. James Walker received Gene Therapy Initiative grant, which funds research towards developing a cure for neurofibromatosis type 1, from the Gilbert Family Foundation. Read more here.
April 2022: Ph.D. Candidate Francisco Fernandez was recognized as part of this year's Graduate Student Appreciation Week.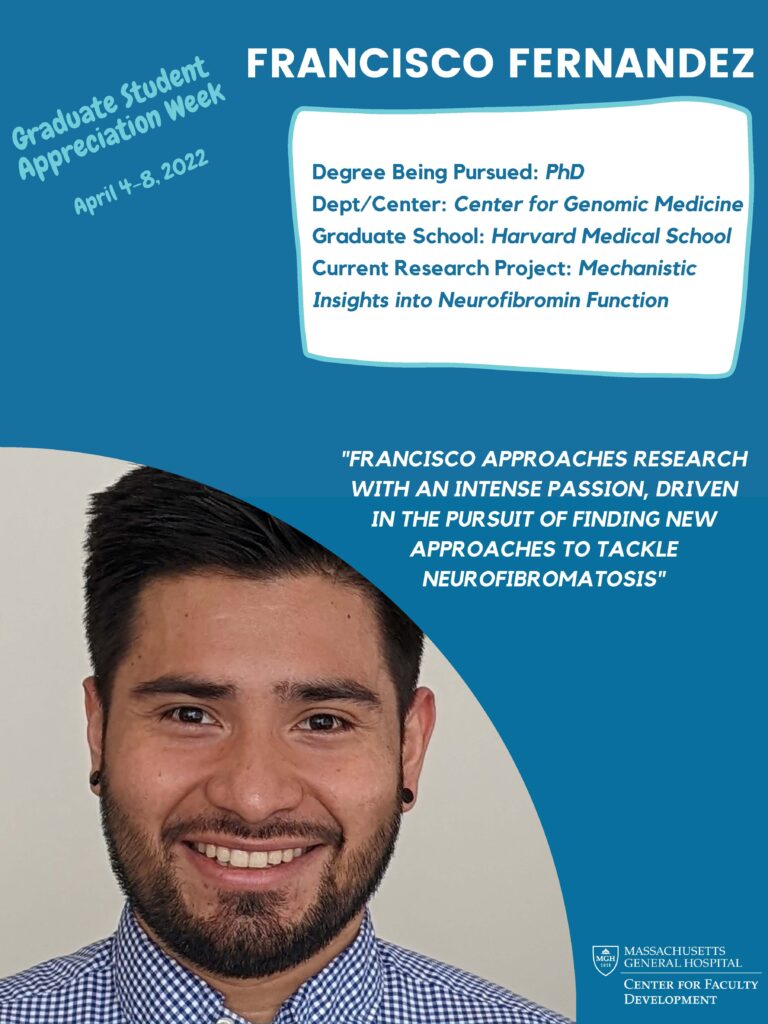 March 2022: Stephanie Joy Bouley, Ph.D. has been selected to receive one of the slots in the Mass General Brigham (MGB) Precision and Genomic Medicine (P&GM) T32 Training Program. Congratulations Stephanie!

March 2022: Dr. Stephanie Joy Bouley gave a guest lecture as part of the "Emerging Biosciences – Straight from the Lab" Beacon Hill Seminar series. Her lecture focused on implementing novel gene editing strategies to treat Neurofibromatosis type 1.
October 2021: The Walker Lab now has a twitter account! Be sure to follow us @WalkerLabMGH!
October 2021: The Walker lab was featured on the Children's Tumor Foundation Blog along with our collaborator Dr. Ben Kleinstiver to discuss the impact that support form the NF1 Gene Therapy Initiative research program has had on our research. Read more here: https://bit.ly/3BdFcuB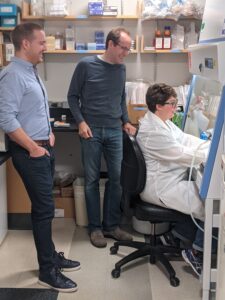 September 2021: Dr. Stephanie Joy Bouley was accepted to attend the The Neurofibromatosis Young Investigators' Forum (NFYIF), a highly competitive research and professional development forum that strives to encourage, promote, and empower Young Investigators to forge collegial connections and acquire the necessary skills and relationships to increase their research productivity and catalyze their career trajectory in neurofibromatosis.
July 2021: We are happy to welcome Co-op students Austin Birmingham and Sophia Castellani to the Walker Lab. Both are undergraduate students from Northeastern University and are expected complete their studies in 2023. They will be working in the Walker lab for the next six months. Welcome Austin and Sophia!
June 2021: This month, both Dr. Jim Walker and Dr. Stephanie Joy Bouley presented at the annual NF Conference, which was held virtually this year. Dr. Bouley spoke on the laboratory's efforts towards developing CRISPR-based gene therapies for Neurofibromatosis Type 1, while Dr. Walker spoke on identifying novel drugs to treat Neurofibromatosis Type 1 NF1 tumors using genetic screens in Drosophila cells. The Walker lab is looking forward to attending next year's meeting in person in Philadelphia, PA.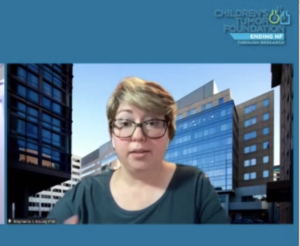 June 2021: The Walker lab is pleased to welcome Anya Thomas for the summer. Anya is an undergraduate student from Eckerd College and is expected to complete her studies in 2022. Welcome Anya!
May 2021: Graduate student Francisco Fernandez has passed his qualifying exam. Congratulations Francisco!
March 2021: Torrey Mandigo, Ph.D. was accepted as a Post-doctoral Fellow on the Harvard Medical School Research Training Program in Sleep, Circadian and Respiratory Neurobiology. Congratulations Torrey!
November 2020: We are pleased to welcome Nicholas LoRocco to the Walker lab as a new research technician. Nick recently graduated from Northeastern University with his Bachelor of Science degree. Welcome Nick!
September 2020: The Walker lab is excited to welcome graduate student Francisco Fernandez to the lab. Francisco is pursuing a Ph.D. from the Biological and Biomedical Sciences Program at Harvard University. Welcome Francisco!
August 2020: We are pleased to welcome Research Fellow Torrey Mandigo, Ph.D to the Walker lab! Torrey recently graduated with his PhD in Molecular and Cellular Biology from Boston College. Welcome Torrey!
May 2020: Congratulations and farewell to Research Associate Brittany Leger, who is beginning her graduate school career at the University of California San Diego this fall. She will be greatly missed in the Walker lab. Good luck Brittany!
October 2019: Dr. Stephanie Joy Bouley has received the Dorothy and Spiro Latsis Fellowship in Neurofibromatosis Research from Boston Children's Hospital. With this two-year fellowship, Dr. Bouley will continue her work on identifying unique network signatures associated with NF1 loss in plexiform neurofibromas. Congratulations Stephanie!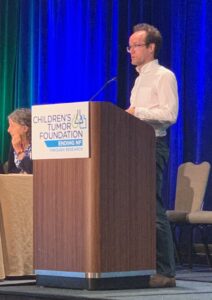 September 2019: Dr. Jim Walker recently spoke at the annual NF Conference hosted by the Children's Tumor Foundation in San Francisco, California. Dr. Walker's talk, entitled "Modeling NF1 in Drosophila" kicked off the Animal Models session of the four-day conference and focused on the novel insights the fruit fly Drosophila has provided into NF1 biology.
May 2019: Dr. Jim Walker was one of two recipients to receive funding from the Children's Tumor Foundation in the form of a NF1 Gene Therapy Initiative Award. Dr. Walker's project focuses on investigating the feasibility of using genome editing (both CRISPR-based homology-directed repair and base editing) as a therapeutic approach to correct three pathogenic NF1 mutations in cultured human Schwann cells. We will capitalize on recently developed CRISPR/Cas9 and Cas12a variants, which increase the targeting range, activity, and fidelity (reducing off-targets) of gene-editing in collaboration with Dr. Ben Kleinstiver of the Center for Genomic Medicine at MGH.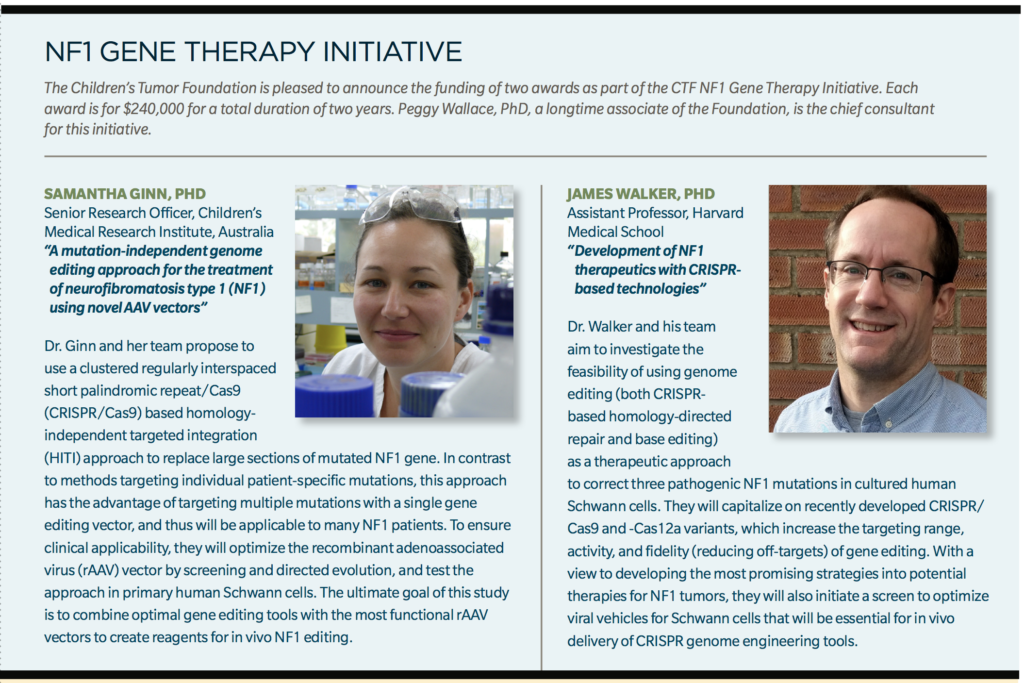 March 2019: Research Associate Brittany Leger recently gave a Plenary Platform Presentation at the Genetics Society of America 60th Annual Drosophila Research Conference held in Dallas, Texas. This work is a result of a collaboration between the Walker and Saxena labs from the Center for Genomic Medicine at MGH, as well as with the Schreiber lab at the Broad Institute and focuses on the effects of ALG10 mutations and protein N-glycosylation on sleep and seizure phenotypes in a Drosophila model of ALG10 loss. Well done Brittany!